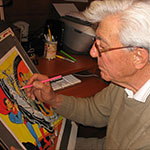 Born December 15th, 1921 in NYC,
Al Plastino
began his comic book career working for Marvel Comics in the early 1940's inking well known characters such as Captain America and Sub Mariner, and for Harry Chesler and Jack Binder Studios inking and drawing characters like Green Lantern, Rocketman and Dynamic Man. After working at the Pentagon, during World War II, painting war posters, Al returned to NY to work for Steinberg Studios where he later met Jack Schiff and Mort Weisinger from DC Comics and was hired to begin drawing Superman – eventually creating most of the spinoffs from the Superman character with writers Jerry Siegel and Otto Binder like "Supergirl", "Superboy" and the "Legion of Super Heroes" as well as some of Superman's most famous arch enemies – Brainiac and Metallo. Al would continue to build the Superman brand for the next 20 years making him one of the most prolific Superman artists of the Gold and Silver Age.
Al left DC in the late 60's and went to work with writer/editor Jack Ellsworth on the Batman strip for Ledger Syndicate until the syndicate folded in 1972. He then went on to work for United Features writing and drawing the strip Ferd'nand, Peanuts and Nancy until his retirement in 1990. [1]
Scheduled days
Edit
(AL will be autographing Comic Books for a fee and selling some of his recreations at the Hero Initiative Booth on Friday, October 11th from 1pm to 7pm.)
References
Edit
Community content is available under
CC-BY-SA
unless otherwise noted.