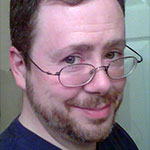 Andy Price
is the pencil/ink artist for the incredibly successful and record breaking MY LITTLE PONY: FRIENDSHIP IS MAGIC comic book from IDW Publishing. MLP broke the 100,000 presale mark, the first independent book to beat out DC or Marvel in 9 years! The book has reached an all age audience, and bought new readers to comic shops! Andy does traditional line art for his interiors and full color work for his covers... no Photoshop here! His MLP work now adorns t-shirts and best-selling trade collections.
Andy is a graduate of the Joe Kubert School, and has also done work for BOOM! Studios, DC Comics, Marvel Comics, Rittenhouse, Breygent, Innovation, and Slave Labor Graphics, among others, ranging from comics to sketch cards to licensing.
He lives in Alabama where he is completely swamped with cat hair from his 5 cats, and makes steak & Guinness pie for his wife Alice. He also celebrates Batman's and James T. Kirk's birthdays. [1]
Scheduled days
Edit
All Days
References
Edit
Community content is available under
CC-BY-SA
unless otherwise noted.