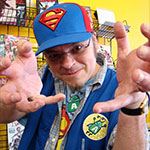 Famous Cartoonist,
Art Baltazar
is the creative force behind The New York Times Best Selling, Eisner Award Winning DC Comics' TINY TITANS, Co-Writer for Billy Batson and the Magic of SHAZAM, Young Justice, Green Lantern Animated (Comic), and Artist/Co-Writer for the awesome TINY TITANS/Little ARCHIE crossover and the new SUPERMAN FAMILY ADVENTURES!!! Art is one of the founders of AW YEAH COMICS comic shop and the ongoing comic series! Aw Yeah living the dream! He stays home and draws comics and never has to leave the house! He lives with his lovely wife, Rose, big boy Sonny, little boy Gordon, and little girl Audrey! AW YEAH MAN!
-#8 on the New York Times best Seller March 2009 for Tiny Titans vol. 1 Trade Paperback!
-Eisner Award 2009 Best Publication for Kids!
-Eisner Award 2011 Best Publication for Kids -Harvey Award 2011 Best Original Graphic Publication for Younger Readers -Columbia College Chicago 2012 Alumnus of the year Award -AW YEAH COMICS 2013 Skokie Merchant of the Year [1]
Scheduled days
Edit
All days
References
Edit