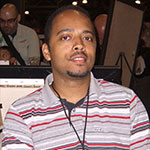 Clayton Henry
began his professional career penciling 'Nine Rings of Wu-Tang' and 'Area 52' for Image Comics. Soon he was given a spot on X-Men Unlimited for Marvel. This eventually led to him being placed on the "Unnatural Instincts" storyline of Exiles. He was soon placed on several other X-Men related projects, including New X-Men: Hellions, and X-Men: Apocalypse vs. Dracula. His work also includes the "Supernovas" storyline in X-men and "The Rise and Fall of the Shi'ar Empire" for Uncanny X-Men. He then returned to 'Exiles' to work with legendary writer Chris Claremont. Soon after, he worked with Greg Pak and Fred Van Lente on an arc of 'Incredible Hercules'. Over the years he has also drawn a number of titles for DC comics, the most recent being Suicide Squad. Henry helped relaunch Valiant Entertainment in 2012 by drawing the first arc of 'Archer and Armstrong'. He is currently drawing 'Harbinger Wars' for Valiant Entertainment.
[1]
Scheduled days
Edit
References
Edit
Community content is available under
CC-BY-SA
unless otherwise noted.