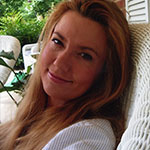 Colleen Doran
is the artist of the 2014 return of THE BOOK OF LOST SOULS by J. Michael Straczynski from Image Comics/Joe's Comics: CONTROL THE CLOCK with Matt Hawkins from Image Comics/Top Cow: an upcoming graphic novel by Neil Gaiman for Dark Horse: and she writes and draws the series A DISTANT SOIL from Image Comics/Shadowline, now in it's final 8 issue story arc. She has also illustrated SANDMAN, WONDER WOMAN, CAPTAIN AMERICA, and works by Warren Ellis, Anne Rice, and Clive Barker. She illustrated MANGAMAN by Barry Lyga, a 2012 Young Adult Library Association Great Graphic Novel for TeensGONE TO AMERIKAY by Derek McCulloch, a School Library Journal pick for Best Adult Books for Teens 2013. It was also the only mainstream original work to make the AMERICA'S BEST COMICS 2013 anthology. Colleen Doran's art was chosen to grace the cover of IRISH ECHO magazine, which was presented to President Obama in 2012. Her work also appeared in the 2013 Hugo Award nominated CHICKS DIG COMICS. She's also done recent cover art for RED SONJA. She has lectured in a wide variety of venues on creator rights and the business of art, from the Maryland Institute College of Art and Design to the Australian Writers Association, and worked for more than two years as a creator rights lobbyist in Washington, DC. Colleen will be appearing exclusively at The Artist's Choice booth in Artist Alley.
[1]
Scheduled days
Edit
All days
References
Edit
Community content is available under
CC-BY-SA
unless otherwise noted.