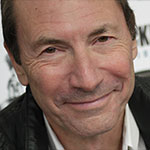 David Lloyd
is the well-known illustrator and co-creator of V For Vendetta. He's also produced stories for the Hellblazer series, Aliens, Global Frequency, War Stories, and the acclaimed crime thriller, Kickback – now available as an app.
He's worked on a volume of war memoirs, Words of Stars ; collaborated on an Asterix collection ; produced his first limited-edition print,' The Prizefighter '; and written and drawn a book on Sao Paulo. His latest work in print is a collection of many of his past short stories – Materia Oscura - which has recently been published in Italy and Spain.
He's currently publishing, and contributing to, an exclusively online comics art magazine, Aces Weekly – www.acesweekly.co.uk - which features top talent from around the globe.
He also helps run an educational website - www.cartoonclassroom.co.uk. More information on David's past and present projects can be found via www.lforlloyd.com, on Deviantart.com, on his Facebook page, and at www.facebook.com/acesweekly. [1]
Scheduled days
Edit
All days
References
Edit
Community content is available under
CC-BY-SA
unless otherwise noted.