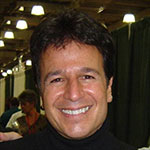 John Romita, Jr.
began his career at Marvel UK, doing sketches for covers of reprints. His American comics debut was in Amazing Spider-Man Annual #11 was in 1977. His popularity began with Iron Man in 1978. then on the series Amazing Spider-Man, Dazzler, two runs on Uncanny X-Men, onto Daredevil where he also collaborated with Frank Miller on the Daredevil: Man Without Fear mini series. He continued to work on a host of titles including The Punisher War Zone, Cable, Thor, a return to Iron Man, the Punisher/Batman crossover, Amazing Spider-Man again, and Wolverine. In 2004, published a creator-owned project called The Gray Area through Image Comics. Romita's art has since appeared in Black Panther, The Sentry and "Ultimate Vision". In 2006, Romita collaborated with Neil Gaiman on the Eternals, then onto the World War Hulk mini series, and another return to Amazing Spider-Man. He then collaborated with Mark Millar for the creator-owned series, Kick-Ass, which was adapted into the popular 2010 film
Kick-Ass. Romita, one of the producers, also directed an animated flashback sequence. Don't miss Kick Ass 2, the sequal, which comes out in theaters August 16, 2013 . Most recently, he completed a run on the relaunched Captain America series. He recently said that after all of this work, he is just getting started. x[1]
Scheduled days
Edit
(Appearing exclusively at THE ARTIST'S CHOICE booth in Artist's Alley.)
References
Edit
Community content is available under
CC-BY-SA
unless otherwise noted.