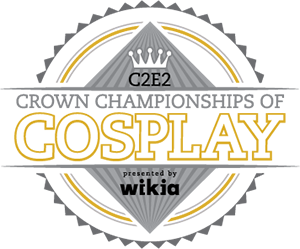 Calling all cosplayers! The Inaugural C2E2 Crown Championships of Cosplay judged by leading cosplay figures opens for registration today (click here to enter)! Launched by ReedPOP and Wikia, the inaugural C2E2 Crown Championships of Cosplay will be the biggest and most prestigious costume contest in the United States! Veterans of the cosplay circuit and amateurs alike will battle it out for a shot at seizing the Crown and over $10,000 in cash and prizes. RedEye, part of Chicago's Tribune Media Group, will serve as media sponsor for the inaugural event.
This year's judges include Ashley Eckstein (Star Wars: The Clone Wars, Her Universe fashion line), Yaya Han (Heroes of Cosplay) and Nan Cibula-Jenkins (costume designer and head of costume design at The Theatre School at DePaul University). This will not only be a celebration of pop culture, but a craftsmanship award show, with a pre-judging session and a stage display! All entries must represent a character or element from Comic Books, Movies & Television, Video Games, Anime or Fantasy.
"With some of the amazing costumes we've seen at our other shows, we thought it would make for a great showdown between the best of the best in cosplay," said Lance Fensterman, Global Vice President of ReedPOP. "We're thrilled to have teamed up with Wikia for the C2E2 Crown Championships of Cosplay to truly celebrate pop culture and the creativity of its Fans."
"While cosplay has always been a passion of Wikia's community of super-fans, the rise of ReedPOP's events and our partnership around C2E2 allows us to engage even the most casual of enthusiasts," said Eric Moro, Director of Programming, Entertainment at Wikia. "Starting on wikia.com and leading up to C2E2, the Cosplay Championships will put popular cultural on full display in all its glory. We're excited to have our community play a central role."
Fans and cosplayers can begin registration TODAY! Just head over to the C2E2 site to sign up or click here!
---
---
Community content is available under
CC-BY-SA
unless otherwise noted.